| | |
| --- | --- |
| Posted by Adam on May 18, 2014 at 3:25 PM | |
 I was taking stock of the figures I have stored away to see what I already have suitable for the Bactrian Greeks when I stumbled across a spare 25mm elephant head. Why did I have an elephant head spare you ask? If I recall correctly, it came from a Navigator Miniatures elephant which was a bit too small to fit in with my existing Essex Minaitures Indian elephants. My solution was to use the body of this beastie with a spare head I had for an African elephant (a batch from a bring an buy) which fitted in sizewise perfectly. (Bet you wish you hadn't asked now...) This rediscovery in conjunction with a lack of inspiration for General figures for the Bactrian Greeks has triggered my latest conversion attempt.
I have no illusions about my mastery in greenstuff for elephant anatomy, but with the head provided, (the hardest bit) I reckon I have half a chance of making an elephant body, if it is almost competely covered with a caparison of armoured barding. A stonking great armoured elephant would seem to be the ideal mount for a Bactrian Greek King. First step is making an armature to build the body around.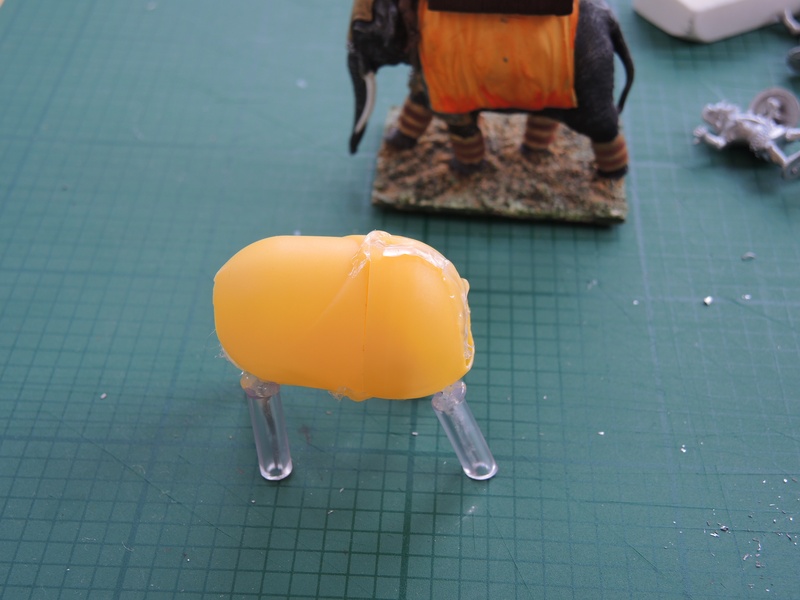 This was assembled from a Kinder egg, bits of wire and plastic tube tacked together with a hot glue gun. Step 2 was to start adding bulk and shape with green stuff (I mixed it about 50/50 with Milliput for a harder finish.) The head was also fitted in position at this stage, just puttied into place. It could be glued as well if it fell  off during the sculpting.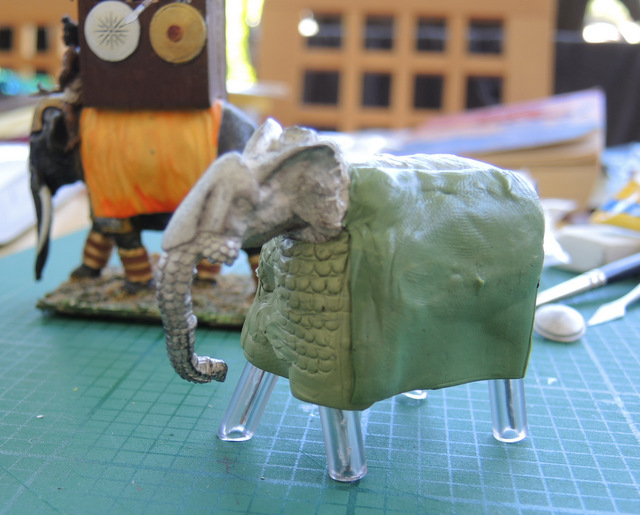 The basic shape is now roughed out and I have started impressing some scale armour shapes into the front part of the elephant armour. Leg armour will be similar to the elephant in the background. That's the theory anyway... ( I only now thought of using a plastic toy elephant as the armature - oh well more fun this way!)