Painting the little metal fellows who are going to have my tabletop generalship inflicted on them has always been an integral part of wargaming to me. I suppose a part of the satisfaction is fielding a miniature army that shows off all my own hard work. Even at my limited level of skill I am not the quickest painter in the land and I have the not unusual habit of painting up new figures for an upcoming game but losing focus and moving on to the next thing straight after. This isn't necessarily a terrible crime, it is a hobby after all and a relentless painting slog through one army or period can make it more like a job than something enjoyable. You can have too much of a good thing though. I do try to focus on one or two main projects at a time but that does take a certain amount of discipline. As an illustration, currently on my painting table are: Thureophoroi, Cretans, Indian bowmen and Persian lancers for my Bactrian Greeks, Mahdists for the Sudan, Romans for my Punic Wars army and a stand of Great Northern War Russians. If that weren't bad enough there are individual skirmish or test figures for English Civil War, Nine Years War, 18th C. Ottomans, Napoleonics and 15mm WW2 (all the rest being 25/28mm figures.) Pretty much the definition of a butterfly brain I would say! The flip side to this pleasing variety is that no one project feels like it is progressing.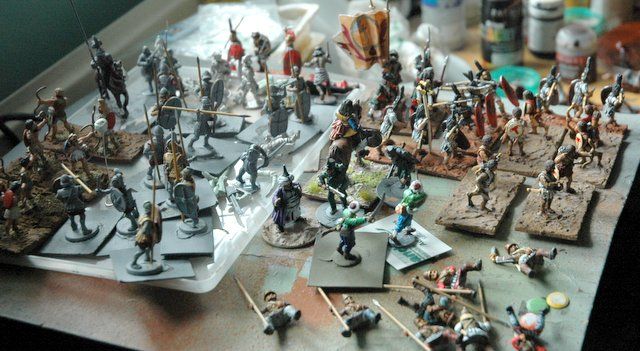 My antidote to this is to focus (for a time) on just the Bactrian Greeks with secondary project of whatever we are going to be playing next (yeah, yeah I know.) For a viable Piquet army I will need a minimum of around 12 units. I already have some pikemen, a couple of elephants, a unit of Thuerophoroi foot and a unit of Persian lancers (http://wargamewarrior.webs.com/apps/blog/show/42199601-bactrian-greek-project-part-5-painted-cavalry). So 5 more units and a couple of elephants will give me something to get on the table. Already mentioned as underway is a second unit of Thureophoroi and some Cretan archers, so that just leaves 3 more. The most distinctive troop type for this army is the bow armed Persian/ Successor lancers. I have the figures for 4 units of these including one that is earmarked to be the Agema guard unit. So, three units of cavalry it is then.
A horse painting session is thus required and as Piquet units are 8 strong that is just 24 cavalrymen.  I use oil paints for my horses to give them a glossy sheen, so I decided to get a few more done than I need for my immediate target. I am pretty messy with oil paints and the brushes (and me!) need cleaning with turps, which I prefer to not do too often. Thus the horses for all four units of Bactrian lancers were to be completed as well as those for a unit of Bactrian or Saka light horse. The 18th Century Ottomans would get horses for a unit of Tartars and the future Napoleonic project a small troop of British hussars. This totted up to 54 horses which I figured was probably close to my attention span and just about able to be crammed into the space where I paint. All the horses were cleaned up, or in the case of the excellent Perry plastic hussars; snipped off sprues, glued together and then cleaned up. All received a temporary base using PVA glue and then a light spray of Halfords primer spray primer.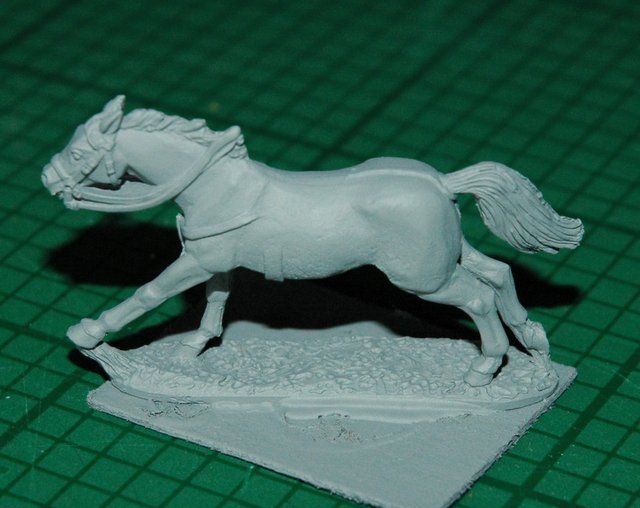 (This is one of the lovely but sadly no longer available 28mm Alban Miniatures horses.)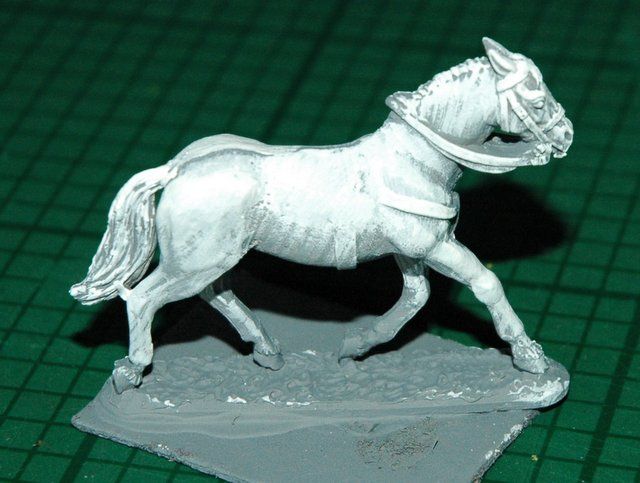 Back from the shed all nicely primed, every horse got a swift brush over with white acrylic paint, to highlight the high points and upper surfaces of the horsey flesh. This step is to facilitate my horse painting technique, first learned from an early copy of Miniature Wargames magazine. I paint on to each horse a coat of oil paint of various browns, straight from the tube and sometimes blended together. To this I add a splash of Windsor and Newton Liquin medium, which gives the paints a pleasing gloss finish and greatly speeds up the drying time (I am a bit of an impatient person.) Straight after splodging the paint all over a figure with a large brush I wipe the paint back off the horse with a soft tissue. This leaves dark shadows in the recesses and lighter areas on the highpoints. It takes a bit of practise to get the wiping just right. Some people prefer to use a sponge or a clean brush instead of a tissue.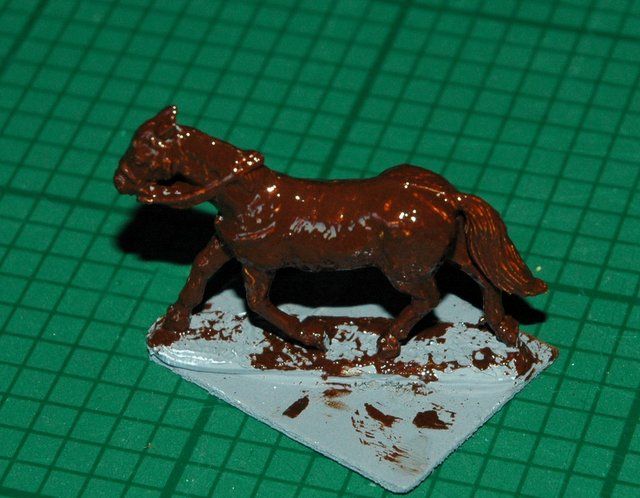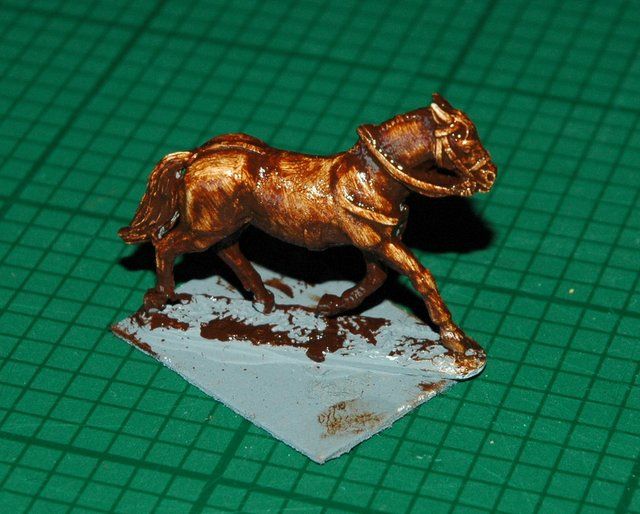 The trick is not to take off too much paint or too little, luckily oils stay wet longer than acrylics or enamels so you have a chance to have a few tries with a single figure. In the end it is down to your own taste how much contrast you want between the light and the dark hues. Once the oil paint has dries (a couple of days if you have used Liquin, a fair bit longer if not) then I add the blazes and white socks as well as the horse furniture and saddle cloths in my usual acrylic paints.

I am not for a moment claiming to produce masterworks with this methods but it is pretty quick once you get the hang of it (57 horses took about 3 hours.) Personally I find it quite effective and I do like the contast between the glossy horseflesh and the riders painted with acrylics.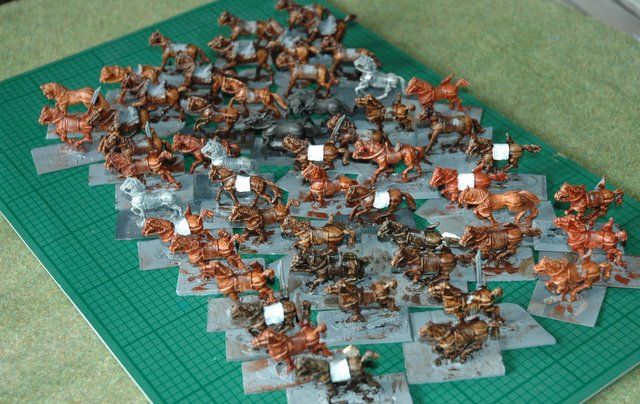 A whole buch of horses for Bactrian Greeks, 18th C. Ottomans and Napoleonics.